Yet Another Crossette Test - 9.5 mm Rocket with 19 mm Crossette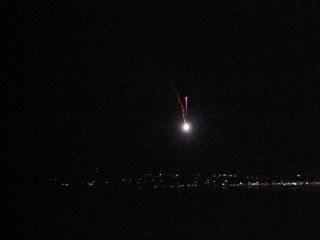 Date: 2006-05-09
Description
A standard 2 oz core-burning rocket made using Rich Wolter tooling with 7:3:1 propellant in a skylighter tube. Bamboo kebab stick stabilizer, hot-melt glued to the motor. Visco fuse, two blackmatch sticks up the core (actually one folded over) and paper wadding holding the visco and blackmatch in place.
Crossette was a 3/4" Tiger Tail, pumped using Rich's tooling. Blackmatch was used for the central fuse, and the cavity was filled with MgAl Flash. A chipboard disk and 60 gsm kraft pasting.
Crossette was attached to rocket body using a strip of pasted kitchen paper. A pinch of corning dust in the top of the motor casing facilitating seperation and fire passing.
Comments
Crossette fragmentation.
Not to mention a bloody loud bang! Way too much flash. The crossette was turned into a cloud of dull sparks as soon as the flash went off.
The rocket stick was a little short and flimsy for the fairly heavy motor and payload assembly, especially at the relatively shallow angle the rocket was aimed in. This caused the rocket to tip over on launch even more and fly almost horizontally. What is somewhat amazing is just how far it went in this attitude, at least 150 metres by the flash-to-bang delay.
This rocket flew the same propellant batch that was burn-rate tested recently. This propellant had been flown several times in undocumented tests, in particular a 2 oz rocket carrying a large number of 1/4" D1 Glitter stars that was especially beautiful (and I am still kicking myself for not videoing it). However, it is still untested in 4 oz motors.
Attachments