More Bottle Rockets - Crossette Test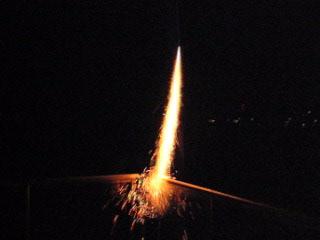 Date: 2005-10-15
Description
Test of a 3/8" Tiger Tail crossette star using a 1/4" bottle rocket motor to hoist it to a reasonable height.
The motor was identical to the propellant proving motor without the magnalium flash report. A piece of blackmatch was folded over several times and pushed into the top of the motor to implement a passfire and a seperation charge.
The crossette was pumped using the 3/8" pump tooling from Rich Wolter. Once dry a short piece of blackmatch was placed in the fuse hole and cut flush with the top of the cavity. The remaining space was filled with Magnalium Flash. A chipboard disk was added and the comet pasted in with a strip of 35 gsm kraft.
The crossette was attached to the top of the motor with a piece of pasted kitchen paper. The motor was fused with blackmatch and attached to a kebab stick as usual to complete the rocket.
Comments
Worked pretty well.
Unlike previous attempts with 3/8" crossettes this one broke basically as desired. In the past I've either completely shattered the star into a cloud of dust or just produced a pop that jetted a little. It did appear that one of the pieces was larger than the others, it left a longer and thicker trail.
The tiger tail composition is also quite dim, a brighter spark producer like a glitter or a flitter will be interesting to test.
Attachments