Balcony Shoot #35 - Zinc Star Test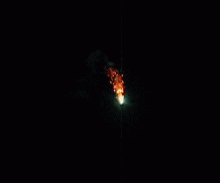 Date: 2003-12-10
Description
A quick stargun shot of a zinc streamer star composition I've been working on. The composition:
14 Zinc (dust)
7 Potassium Perchlorate
3 Sulfur
2 Charcoal (airfloat)
+5% dextrin and bound with 25% alcohol, pumped 8 mm diameter, 8 mm long.
A new stargun was made as well, 9.5 mm ID, 50 mm long. Lift was a 1/4 teaspoon of -20+40 mesh pulverone.
Comments
Worked Well.
The camera didn't really record the colour well, it was far more green to the eye. The charcoal effect tail is quite dense and long.
Attachments
| title | type | size |
| --- | --- | --- |
| Test Video | video/x-msvideo | 320.214 kbytes |