Night of Flying Spinners - 12.5 mm Flying Hummers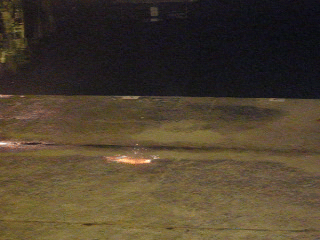 Date: 2006-01-09
Description
Two 12.5 mm flying hummers (aka single nozzle z-bomb style tourbillions). Skylighter hummer casings, 1/2" ID, 1.5" long. One charged with my batch of Contaminated Meal, the other with FeTi Driver composition.
Spin vents were drilled before charging with a metric 2 mm drill, 45 degrees up angle, tangental to the inner wall breaking through near the middle of the charge.
Fused with blackmatch and meal slurry as usual.
Comments
Worked pretty well.
The Contaminated Meal one in particular, it was a slow starter but accelerated quickly. Like a few flying hummer devices before this one took off and headed into the trees, clipping some twigs before that final burst that I am still at a loss to explain fully.
The FeTi driver one had a bit of a hover mid-flight then fell. Pretty poor performance, but it looked nice. FeTi is a very nice metal for spark effects. I noted on recovery that its spin vent was quite eroded and broke through the wall a bit higher than I had desired, reducing its performance.
The Meal unit was not recovered. Its spectrogram revealed it spun up to 400 Hz, or 24000 RPM.
Attachments