Long Exposure Pictures - D1 Glitter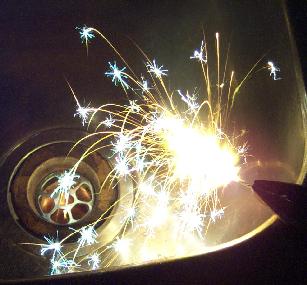 Date: 2004-11-27
Description
A small quantity of -20 mesh granulated D1 Glitter composition twisted into a 'fuse' with kitchen paper.
Similar conditions to the Senko Hanabi pictures, but a shorter exposure.
Comments
Fantastic picture.
I doubt the bluish colour is genuine, probably an artifact of the CCD filter dye's spectral passband, lots of shortwave light would be emitted by the burning Aluminium.
Attachments
| title | type | size |
| --- | --- | --- |
| Try 1 | image/jpeg | 202.907 kbytes |