Beach Shoot #16 - Grasshopper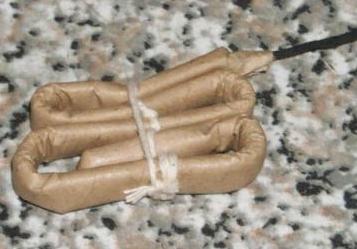 Date: 2003-12-16
Description
This was the first time I'd tried building English Crackers (often called a Grasshopper).
A piece of 5 mm ID match pipe was closed at one end, filled with -20 mesh KP burst, then softened in a wet rag. I didn't have a jig for the folding, so I just did it by hand, tying off each bend as I went.
The final bend of the tube was fused with a length of blackmatch.
Comments
Kinda Worked?
I expect they are ment to crack and jump around in a more lively manner? I think using fine BP instead of KP would have worked better, but I wanted to get rid of the quantity of KP I had hanging around.
Attachments