Balcony Shoot #18 - Core-Burning Rocket #1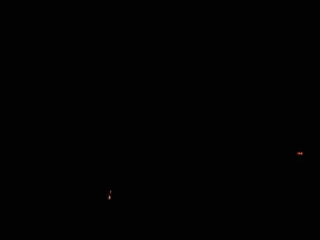 Date: 2003-10-21
Description
Another one of my 50 mm long rocket meal devices, although this one's ID was 8 mm not 5 mm.
During construction the bulkhead seal of paper wadding and hot melt glue was accidently pushed out a little while the glue was still soft. This resulting in the reduction of the glued length from 8 mm to less than 4 mm.
I took bets of how likely a cato it would be... but it was unrepairable, so I just decided to try it anyway.
Fused with blackmatch and glued in place with meal-NC as most of the projects have been recently. Blackmatch is easier to make in long lengths than my meal-NC fuse, and with the meal-NC glue approach it has been proving quite reliable. It is also a result of the latest batch of thin blackmatch actually being quite reliable compared to previous ones.
Comments
Nice (?) CATO.
Not too suprising, and the effect was actually quite pleasing, especially in slow motion. I've made an animated GIF out of it for a future page dedicated to this otherwise highly reliable geometry and propellant configuration.
Case was recovered largely undamaged still in launch tube.
This failure is pretty much identical to the device on the beach tested the same evening. Longer bulkhead plugging should prevent it.
Attachments