Night of Flying Spinners - 6.4 mm Helicopter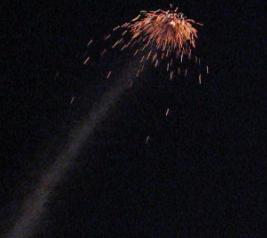 Date: 2006-01-09
Description
A conventional but slightly smaller helicopter style tourbillion, 1/4" ID, 2" long using a Pyrotube casing. Fast 6:1:1 BP propellant with blackmatch fuse and bamboo stabilizer stick.
Comments
Worked great!
Unlike many other 1/4" helicopters I've made this one actually flew quite high.
Unfortunately I could not find the expended device.
Attachments