Tuning Tests - More Glitter Composition Tests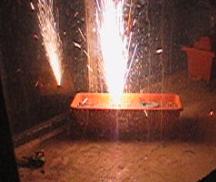 Date: 2004-11-27
Description
I took the Lithium Carbonate glitter from the previous small scale experiments and tried it in an unchoked 1/4" lance, and a clay choked 1/2" hummer tube.
Finally I've included a stargun shot of a D1 star.
Comments
Pretty bad videos.
The glitter lance was uninteresting, D1 glitter in a lance makes a more interesting effect with less smoke.
The gerb was more exciting, its nozzle slagged pretty badly durring operation, almost causing it to explode. For the effect the relatively expensive LiCO3 is a waste, but a similar composition based on Iron Oxide or something similar might be quite usable in cheap varigated gold/silver gerbs.
There was something unusual about the D1 glitter star. It had a short delay, giving it little tail, but more importantly all the flashes were gold. Very beautiful in effect, but unusual, D1 normally produces a mixture of gold and silver flashes, and mostly silver ones. As usual the video really gives little idea of what it looked like in real-life.
Attachments
| title | type | size |
| --- | --- | --- |
| Lance | video/x-msvideo | 4.305 Mbytes |
| Gerb | video/x-msvideo | 2.688 Mbytes |
| D1 Star | video/x-msvideo | 529.676 kbytes |