Balcony Shoot #42 - Whistle Experiments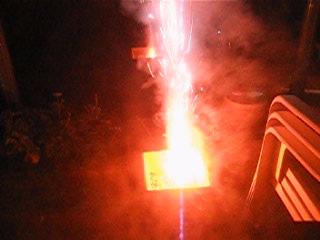 Date: 2004-04-24
Description
Four simple experimental whistle devices.
One 12.5 mm ID, 4 mm ID nozzled whistle, based on an old AFN article which talked about "flatulating" devices using salicyclic whistle and nozzles. Not having any sodium salicylate, I decided to try it with benzoate whistle.
Two 5 mm ID whistles, both 25 mm long, one with a 2 mm ID nozzle and no core, the other half-charged with a 2 mm core running the complete length of the grain.
Finally a 5 mm ID whistle, 25 mm long, half-charged with 90% benzoate whistle and 10% -325 mesh spherical Aluminium. This was made to show the effect of Al in whistle in response to a question on the UK rocketry and pyro forum.
Comments
The nozzled whistles didn't flatulate or whistle, but they did produce enormous thrust for fairly long burns. They would make good end-burning rockets.
The long cored whistle screamed very loudly. It appeared that the grain was breaking up and fragments burning outside the case. This isn't too suprising, as it was hand-pressed.
The Aluminium containing whistle worked OK, but I personally don't think much of the effect. It is better than nothing if you don't have Titanium or Ferro-Titanium though. I believe glitter microstars are a better effect. There is a lot of orange sodium ion light produced from the whistle, so brighter effects are more attractive.
Attachments