Balcony Shoot #41 - Whistle Test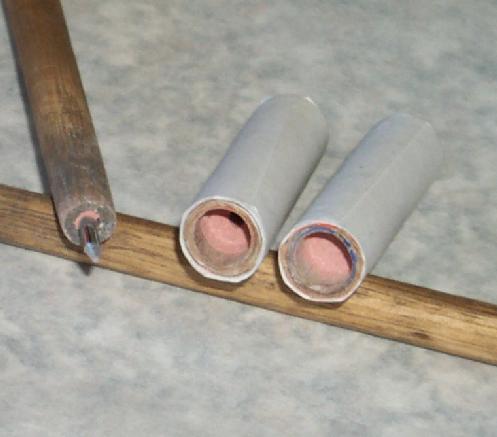 Date: 2004-03-03
Description
A simple 5 mm ID, 50 mm long thick walled tube rolled from chipboard and 80 gsm photocopier paper.
Benzoate Whistle rocket propellant was pressed in by hand in about 5 increments, reaching about 2/3rd full. The last increment was pressed with a drift with a pin 2mm in diameter and 5 mm long to form a short core.
The device was fused with a piece of blackmatch that was bent over several times at one end to hold it into the empty end of the tube once inserted.
Comments
Worked great.
The sound appears to rise then fall on the video, but this is because of the aliasing caused by the camera's audio sampling rate of only 11.024 kHz. The initial tone exceeded 7 kHz.
The gaps in the tone worry me, it may be because I used too large increments while pressing.
A previous test device without a core worked just fine as well, but wasn't quite as loud.
Attachments