Beach Shoot #14 - Micro-Helicopters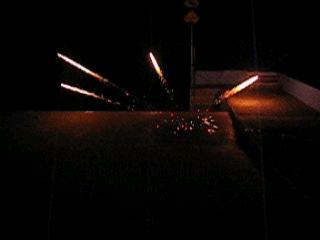 Date: 2003-11-29
Description
Very small helicopter devices, 5 mm ID, 40 mm long, tubes hand rolled using cardboard from sparkler packs and thinned PVA glue with an overwrap of pasted A4 80 gsm paper to hold it together while drying.
Wax treated cat litter end plug at the nozzle end, no end plug in the other. The propellant in both devices was straight meal powder. The first loaded only by stemming (funnel and wire loading), the second was stemmed in three increments with mallet ramming.
The open-end of the device was filled with hot-melt glue, and a short piece of bamboo stick, the stabilizer, was rolled across the top to make a good bond with the glue.
A 1.8 mm vent was drilled at a 45 degree down angle just about the clay end plug. It was fused with thin blackmatch and meal-NC paste priming/glue.
Comments
One cato, one good flight.
The first, stemmed-only device exploded with a fairly quiet report, blowing four chunks of propellant out in different directions, rather like a crossette star. The effect actually being very artistic in slow motion, but obviously undesirable!
The second device took off and flew quite well. It only reached about 10 metres altitude, but burnt well with a quiet and attractive effect. It was not recovered unfortunately, falling into the ocean.
The first device was found, the hot-melt end having blown out fairly cleanly. The glue plug and stabilizer stick was not found. It appears it was just not well enough packed and a grain void overpressured the bulkhead. It is possible that the bulkhead seal itself was poor, I wrenched it out once by hand during construction and had to re-do it. Future devices should probably have a clay plug at both ends.
Attachments