Balcony Shoot #33 - Titanium Micro-Stinger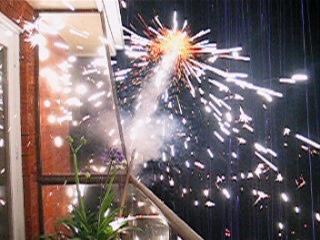 Date: 2003-11-28
Description
Built essentially as a 12.5mm ID, 25 mm long, Titanium hummer with an additional 1.8 mm hole drilled in the bottom end-plug.
The lift vent hole was drilled carefully all the way through the propellant grain, stopping just short of the top end-plug. The spin vent was conventional, tangental fused with thin blackmatch and meal-NC paste priming/glue.
The launch pin was the same sparkler wire in a bamboo skewer jig as used in all previous micro stinger tests.
Comments
Nice effect!
As expected the larger physical size of the device limited its rotational rate acceleration and the apogee reached, although the apogee was difficult to determine in the dark after burn-out.
The Titanium effect was blinding in its brillance.
The spin rate peaked at burn out, around 355 Hz or 21 kRPM.
Attachments